What Poodle Mix Should I Get? How To Choose The Perfect Poodle Cross
Doodles, or commonly known as Poodle mixes, have become a popular crossbreed choice among pet parents in recent years. This is because of their cute fluffy fur and their affectionate friendly personalities. In addition, poodles are hypoallergenic and don't shed hair (you can read more about this here), so when poodles cross breed with other species the puppies often inherit this desirable trait. This makes them a good fit for homes with dog-allergy sufferers.  It is worth knowing that not all poodle mixes are hypoallergenic though, so if you want a truly hypoallergenic dog you are better off sticking with a purebred poodle or other hypoallergenic purebred dog!
There are currently 40+ Poodle Mix breeds – or Doodles, as they are lovingly called. I show you the pros and cons of 15 poodle mixs below.
Poodles are a type of dog breed that comes in 3 varieties:
Toy Poodle (small)
 Miniature Poodle (medium)
Standard Poodle (large)
While all three types of poodle share the same traits and characteristics, this size variation is another reason why they are popular, as it means they can easily cross breed with lots of other dog breeds and produce lots of different sized puppies.
The origin of this breed dog is still disputed mainly over whether they descend from the French Barbet, or from Germany as a type of Water-Dog. You can read here about how poodles actually originate from Germany…
Did you know Poodles are the 2nd most intelligent dog breed in the world? Amazing right? This is another reason why they are so popular as a cross breed, as poodle cross breeds tend to be smart and easy to train.
What Poodle Mix should I get? What poodle mix is right for me?
The poodle mix you should get depends on your lifestyle, living situation, how much time you have to exercise your dog, what kind of personality you like, and how much time you typically spend at home. Each different poodle mix has different needs and characteristics, which we will look at more below.
If you live in an apartment, a smaller poodle mix is best, such as the Maltipoo,Cavapoo, Poovanese, Eskipoo or even the Bichon Frise (while technically a breed in their own right, they are closely related to the poodle). Alternatively, sheepadoodles are slightly larger and are ok in apartments as long as they are given a lot of exercise.
If you would like a companion poodle mix, and don't spend long periods of time out the house, a Maltipoo, Airdoodle, Bassetoodle, Bernedoodle, Boxerdoodle or Poovanese is best. These poodle mixes are especially friendly and loyal and love nothing more than spending lots of time with their owners.
If you are unable to spend hours and hours each day exercising your dog, the best poodle mix for you would be a Maltipoo, Cavapoo, Chipoodle.
If you are out of the house with work during the day most Goldendoodles and Bernedoodles can last for several hours alone without separation anxiety. Labradoodles can be left alone for between 4 and 5 hours as another doodle mix that can cope alone. However, as poodles are very sociable, all poodle mixes prefer company and should never be left alone for long periods of time.
The smallest poodle mix is the chipoodle. This is a mix between a chihuahua and a toy poodle. Some chipoodles are as small as 3lbs and they are really very tiny. While these dogs are very cute, they are not good for families with young children who may be too rough with such a small dog.
The largest poodle mixes are the Double doodle and the Bernedoodle. This is when a standard poodle is bred with a labrador and golden retriever (Double doodle) and a Bernese mountain dog (bernadoodle). These dogs are also great exercise partners as they are strong and love being outside with their owner.
The calmest poodle mix is the bernedoodle. Bernedoodles are less prone to anxiety than other poodle mixes, but they are large and need a lot of exercise and do not do well in apartments.
The most intelligent poodle mix is the bordoodle. This is a no brainer as the Border Collie is the 1st most intelligent dog breed with the poodle a close second. You can read more about poodle intelligence here.
If you have children, all poodle mixes are good- you can read about what poodle owners had to say about poodles and children here. However if you have very young children you may want to avoid the very small poodle mixes like the chipoodle as children can easily hurt small dogs. You may also want to avoid very large poodle mixes like the bernedoodle and double doodle as though they are gentle giants, they may accidentally topple a toddler over during play.
 Fear not, as here is a massive list of the most famous poodle mixes that will guide you to find your new furry companion. 
Poodle mixes have climbed the charts rapidly as these designer dogs fetch high prices along with long waiting lists. The outcome i.e. size, temperament, and appearance isn't the same always as crossing poodles with other breeds is a fairly new process. But, among all of them, there is one common thing and that is- all of them are really really cute!
So, find your perfect fit by looking at some of the most popular poodle mixes discussed here!
1. Maltipoo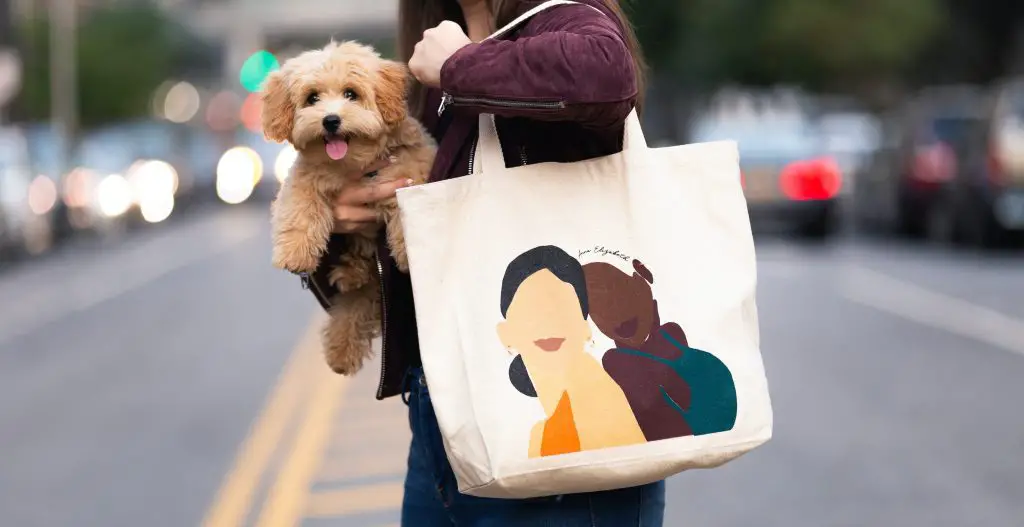 Personality Traits:
 Maltipoo is a cross breed that resulted from the breeding of a miniature or a toy poodle with a maltese
Maltipoos have lots of personality and enjoy using their voice to let you know how they feel (re, they can bark quite a lot)
Maltipoos are companion dogs, meaning they love nothing more than spending time with their owners. However, this means they can get lonely and anxious if left alone for long periods.
Maltipoos are normally between  8 to 14 inches tall and weigh 5 to 20 pounds. You may be thinking this is a lot of variation- but it mostly depends on the size of the poodle parent. If you poodle parent is a toy poodle the resulting maltipoo will be much smaller than if the poodle parent is a miniature poodle!
Pros:
 Perfect fit for most family situations, they are playful and affectionate and tolerant of children who have been taught proper dog boundaries and know how to handle dogs with a healthy respect.
Maltipoos are not very territorial, making them perfect for families and children
Playful and loving
Maltipoos make good watchdogs as they will bark at any intruders- just dont count on their small size actually scaring anyone off
Shed a minimal amount- meaning less time cleaning the house (perfect for those who don't want to spend all day hoovering!)
 Hypoallergenic. As both malteese and poodles are hypoallergenic, it means that a mix of the two has a better chance of being hypoallergenic than a poodle mix with a non-hypoallergenic dog
 Maltipoos are small so do not need as much exercise as larger dog breeds, but will still need to be walked daily
Maltipoos are easy to train, thanks to their intelligence and people-pleasing nature
Cons:
Maltipoos can make a lot of noise as they enjoy barking, however as they are easy to train, with the right instruction a maltipoo can be trained to bark less
Like poodles, maltipoos need regular trips to the dog groomers as their fur and hair will continue to grow unless it is cut. This also means their fur is prone to tangles so they require daily brushing and monthly baths.
Maltipoos can be stubborn
2. Labradoodle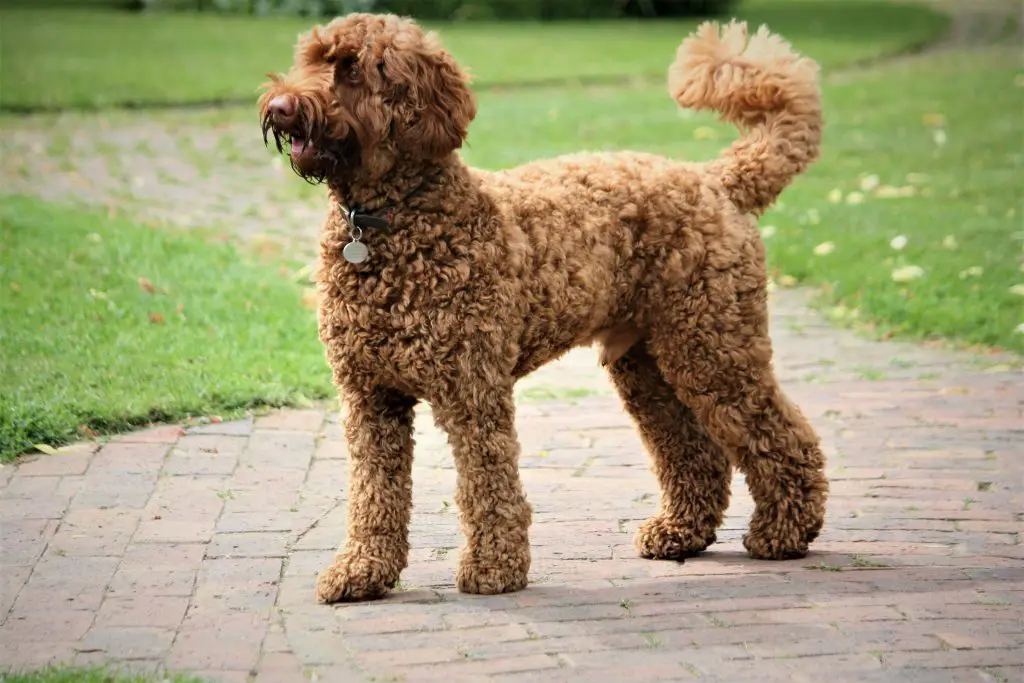 Personality Traits:
 Labradoodle is the result of Labrador Retriever to Poodle breeding. This  is a popular breed as the labrador is one of the most loved dog breeds in the world but they do drop a lot of hair. So mixing a labrador and poodle is win-win as you get the positives of both breeds.
They are available in 3 different coat types. Some labradoodles have fleecy fur which is wavy instead of tightly curled. Some labradoodles have wool like hair, more similar to that of a pure bred poodle and some labradoodles have hair more similar to a labrador, which is much less allergy friendly than the other two fur types. Wool and fleece haired labradoodles will need regular grooming by a professional, which can be expensive. 
 Apartments are not an ideal place for this pet, they tend to be quite large between 22 and 24 inches, so need plenty of space to move about and exercise.
Pros:
Labradoodles are mostly hypoallergenic, however in some cases if the dog takes after the labrador more than the poodle they may still cause allergies and this differs from dog to dog
Labradoodles generally don't shed much
Labradoodles are excellent family dogs, this is no surprise as both labs and poodles are great with people and children of all ages
Labradoodles, like their parents, are intelligent and easy to train for both basic commands and more complicated tricks
Labradoodles are playful and sociable
Cons:
Labradoodles need lots of space for to run around in the home and outdoor, they are large and energetic and will become unhealthy and sad if they are cramped in a small apartment
Labradoodles need frequent exercise as they are high-energy dogs, upwards of 1.5 hours a day
Labradoodles cost a lot to keep because they eat a lot and need regular grooming
Labradoodles are expensive as they are a highly sought after designer dog breed
3. Cavapoo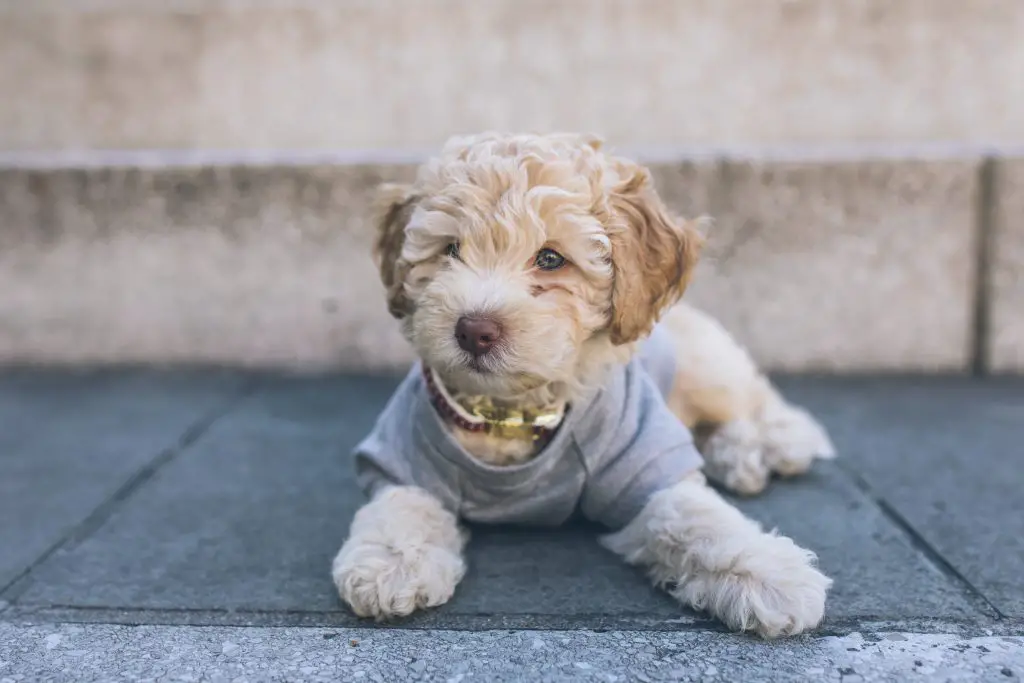 Personality Traits:
Cavapoo is a mixed-breed dog and is not a purebred like its poodle or Cavalier Kings Charles Spaniel parents. 
Cavapoos are between 9 and 14 inces tal and come in different colours including cream, brown, black, fawn and white. 
They have wavy, short, soft, or curly coats
Pros:
Cavapoos are cute, adorable and very playful
Cavapoo are intelligent and easy to train, both basic commands and tricks
Cavapoos are affectionate and sociable towards people and good with children
 Cavapoos are mostly suitable for allergy sufferers
 Cavapoos don't shed much
Cavapoos need between 30 and 60 mins exercise per day, less than other poodle mixes.
Cons:
Cavapoos are prone to dental and obesity issues, and their diet may need to be adjusted accordingly
Cavapoos need to have their fur brushed weekly and be taken to the groomers around every two months 
Cavapoos do not like being left alone for long periods and are happier when around people
4. Airedoodle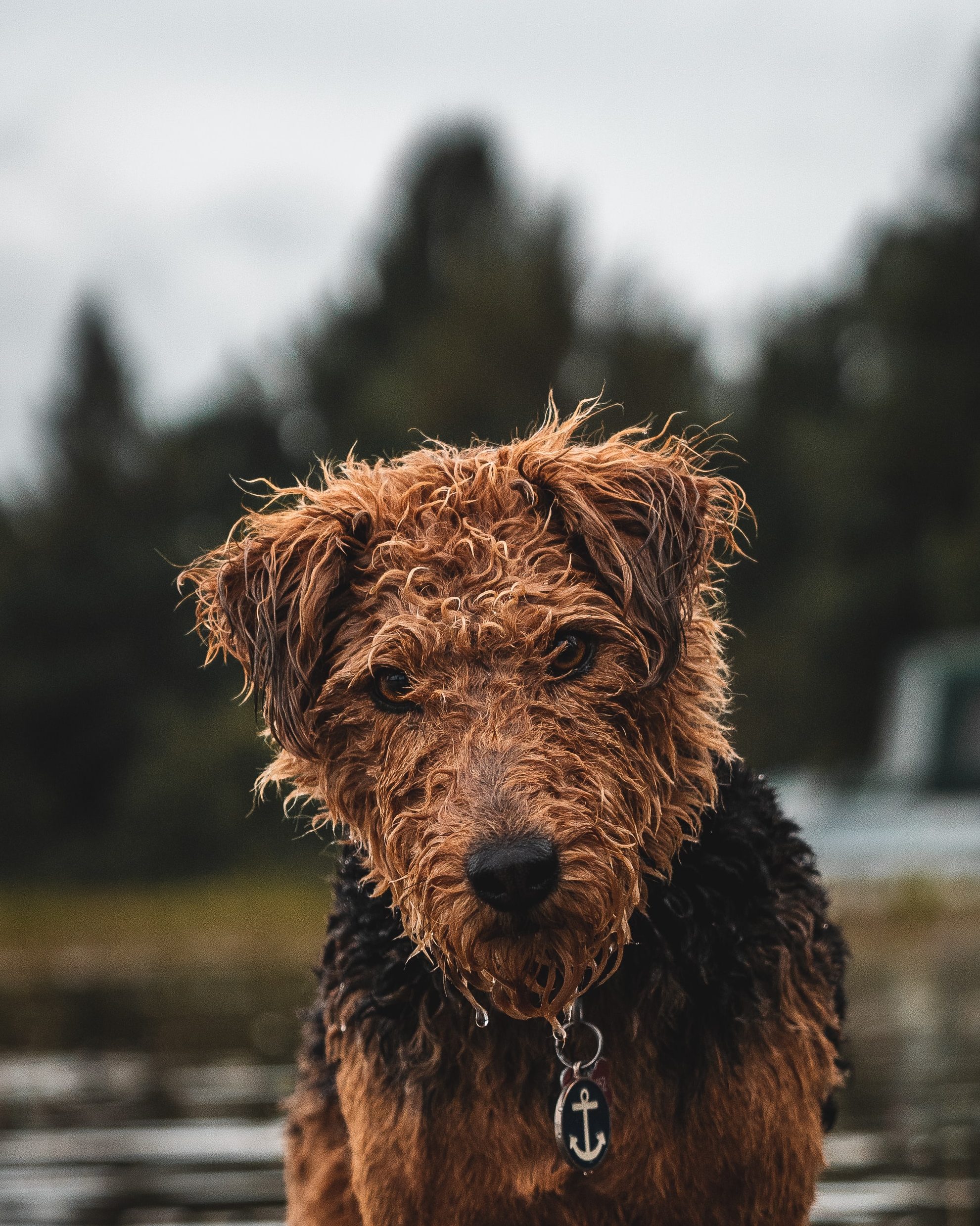 Personality Traits:
Airedoodles were developed by breeding a Poodle and an Airedale Terrier.
Airedoodles have a beautiful coat that is often low-shedding and hypoallergenic, thanks to their poodle parent.
Airedoodles are good companions for kids as well, as they are friendly, loyal and people pleasing
Pros:
Airedoodles are intelligent, energetic, and friendly
 Airedoodles love human companionship
Airedoodles are active and playful
 Airedoodles love outdoor activities like walking, hiking, running and playing
Airedoodles don't bark much and are quite calm but can still guard your house if there were an intruder
Cons:
Airedoodles  are not suitable for living in apartments as Airedoodles are very large dogs
Airedoodles  need to be groomed regularly and as they are large eat a lot, which can be expensive
 Airedoodles may get themselves in trouble when left alone or bored for a long time, they can chew furniture and make a mess
5. Aussiedoodle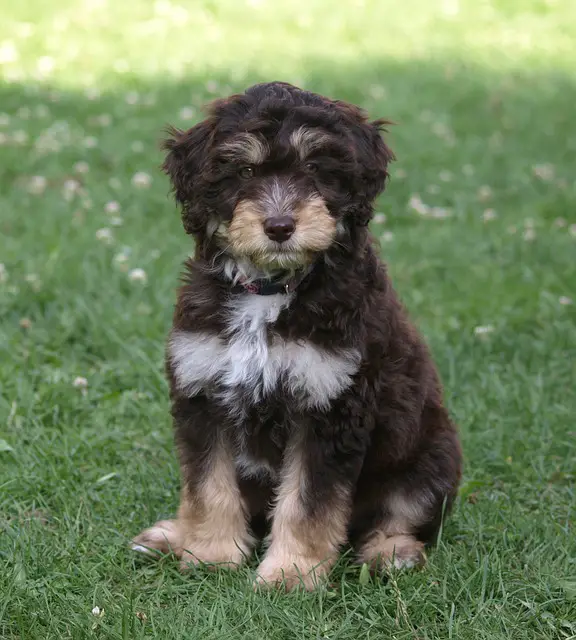 Personality Traits:
 Aussiedoodles were developed by crossing Australian Shepherds with Poodle.
Some  Aussiedoodles have tighter curls, while others have wavier coats.
 Aussiedoodles come in a variety of colors like black and tan, blue Merle, or even a solid color in rare cases. 
 Aussiedoodles around 15 inches tall and can weigh anything between 40-70 lbs- making them quite large
Some  Aussiedoodles  are even used as therapy dogs, because they are so loyal, bond well and are generally pretty calm
 Aussiedoodles  make great working dogs, as both parents were originally bred to be working dogs. You can read all about jobs poodles have done here!
Pros:
 Aussiedoodles  are affectionate and loving pets, they enjoy being stroked and cuddles
  Aussiedoodles  get along well with everyone, including respectful children who know how to play with dogs safely.
 Aussiedoodles  aren't prone to much shedding, thanks to their poodle parent
 Aussiedoodles don't tend to suffer as many health issues as some other poodle mixes
 Aussiedoodles have a very loyal temperament
 Aussiedoodles  are highly intelligent
Cons:
Aussiedoodles are quite high maintenance in terms of coat care and grooming, like most poodle mixes 
  Aussiedoodles  can learn bad habits easily, if they are not properly trained and do not have good boundaries enforced.
 Aussiedoodles  demand frequent exercises due to high energy levels and larger size, they need to be walked for 2 hours + every day
Aussidoodles don't like being left alone for long
6. Bassetoodle
Personality Traits:
Bassetoodles are a mix between the Poodle and the Basset Hound
Bassetoodles come in either standard, miniature, or even toy sizes
A Bassetoodles average height is 12 inches – 16 inches and the average weight is around 20 lbs – 30 lbs. They are quite short and long, similar to a basset hound
Pros:
Bassetoodles are generally friendly, joyful and outgoing dogs but are also reasonably calm calm 
Bassetoodles are more likely to be completely hypoallergenic than other poodle mixes
Bassetoodles make great companion dog, as they love spending time around people
 Bassetoodles are also the perfect choice for a guard dog, because thought they are friendly and people pleasing they are not shy or quiet when it comes to letting people know if there is an intruder
Cons:
 Bassetoodles can suffer from separation anxiety if left alone for too much time. This is because they are such great companion dogs that they really miss their humans
Bassetoodles can be mischievous and stubborn, so need to be well trained
Bassetoodles can howl quite a bit and need to be trained not to do this, this is because of the basset hounds hunting history, this is not agressive so think of it as more an inbuilt alert system
Bassetoodles have a lot of energy and need a lot of exercise
7. Bernedoodle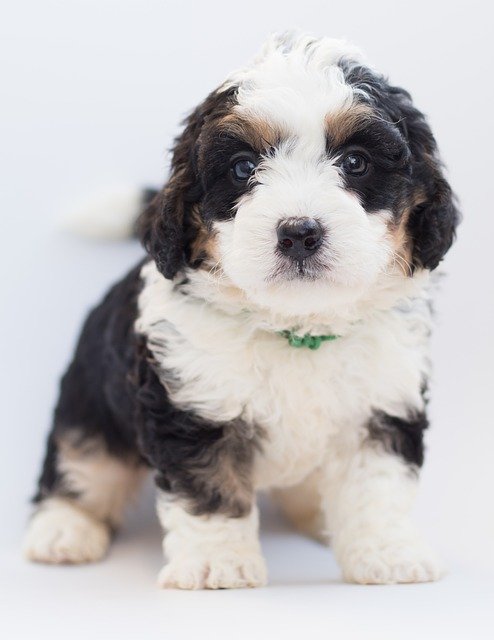 Personality Traits:
 Breeding of Bernedoodles began in the year 2003 with Bernese Mountain Dogs and Poodles 
 Bernedoodles were bred to be great companion dogs
Depending on the traits that they receive from each parent, they can vary greatly in appearance.
 Bernedoodles are large dogs and are normally over 50lbs. This should be no surprise  as bernese mountain dogs can weigh up to 115lbs
Pros:
Bernedoodles are excellent family dogs for families with older kids, as Bernedoodles are so large they may not be best with a toddler
Bernedoodles get along well with other pets, including other dogs and cats
Bernedoodles are normally hypoallergenic, thanks to their poodle parent
Bernedoodles are very good swimmers, making them the perfect dog for you if you enjoy water sports or live near a lake or ocean
Bernedoodles tend to have few health concerns as compared to other dogs
Bernedoodles are the calmest Poodle Mix Breed you will ever find- because of this they can be left alone for longer than other doodles, though they prefer company.
Cons:
Bernedoodles are expensive, as they are considered a designer dog and are very popular, so, due to supply and demand, the sellers sell these puppies for a high cost.
Bernedoodles dislike being left alone for a long period of time as they crave attention and company
Bernedoodles equire outdoor exercises at least 2 hours each day
8. Boxerdoodle or Boxerpoo
Personality Traits:
The Boxerdoodle (sometimes called a boxerpoo)  is not a purebred like their Poodle or Boxer parents
Boxerdoodles come in almost any color, but are usually a mix of brown, black, white or merle. They can also be phantom, which means that their coats have two colors showing.
Boxerdoodles coat is usually wavy and curly- they look like boxer dogs with curly fur
Pros:
 Boxerdoodles are affectionate, friendly, and fun dogs
Boxerdoodles are great companion pets, but are better with older children instead of very young ones
Boxerdoodles are highly trainable
Boxerdoodles are great exercise partners  as they have lots of energy and can run long distances similar to their poodle parents  https://poodlesinfo.com/can-poodles-run-long-distances-how-far-can-poodles-run/
Boxerdoodles  have a fairly long life expectancy
Cons:
Boxerdoodles they require frequent daily exercises as they have lot of energy 
9. Double Doodle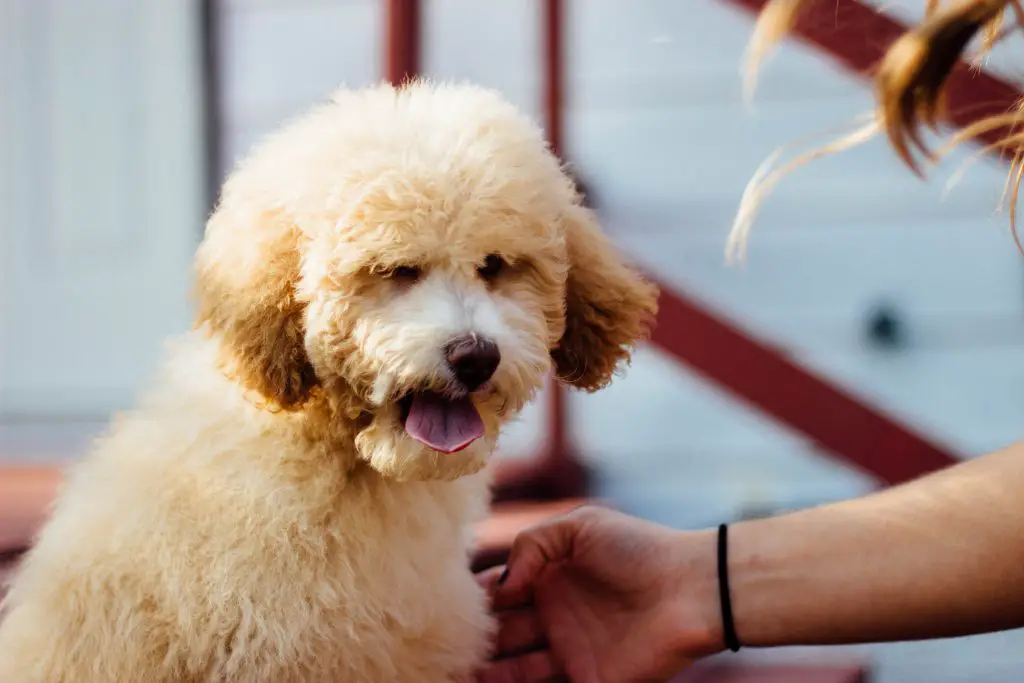 Personality Traits:
The Double Doodle is a mix between the Labradoodle and a Goldendoodle
Double Doodles coat may be curly or straight and wavy
The Double Doodle will be happier if he gets to play in a home with a fenced in yard
Double Doodles weigh between 50 and 80lbs and are large
Pros:
Double Doodles are equipped with great intelligence and can excel at problem solving
Double Doodles very easy to train, thanks to their high intelligence
Double Doodles are popular as they are a combination of three of the most popular dog breds
Double Doodles are child-friendly, senior citizen friendly and cat-friendly dogs
Cons:
Double Doodles are susceptible to weight gain, similar to a labrador and golden retriever
Double Doodles need a lot of exercise and enjoy waling, hiking and swimming
Double Doodles are not suitable for an office environment or a small apartment 
Double Doodles have a stubborn personality, however their friendly nature normally balances this out
10. Eskipoo
Personality Traits:
The Eskipoo is a designer breed developed by crossing the Poodle and American Eskimo dog.
Eskipoos are small-sized and sturdily built dogs. Eskipoos have a dense coat, round head, floppy ears, well-set eyes, and short black muzzle. They are very cute and fluffy!
Pros:
Eskipoos are good-natured and have a happy temperament
Eskipoos are intelligent and bright, they learn new commands and tricks easily
Eskipoos are playful and gentle, so are good with families
Eskipoos are loving and affectionate
Eskipoos are small in size so are suitable for those living in apartments
Cons:
Eskipoos enjoy jumping, so beware that you will need to be careful to make sure they do not end up on the tables and beds.
Eskipoos have a high energy level so need lots of play and exercise, considering how small they are 
Eskipoos shed more than other poodle mixes so you will need to clean the house more than other poodle mixes
Eskipoos have a habit of barking in a high-pitched tone, they need to be trained not to do this as it can be very annoying
Eskipoos can be suspicious toward strangers, this is great if there is an intruder but not so much if it is a friend. To stop this Eskipoos need to be socialized well from an early age with both people and other dogs.
11. Goldendoodle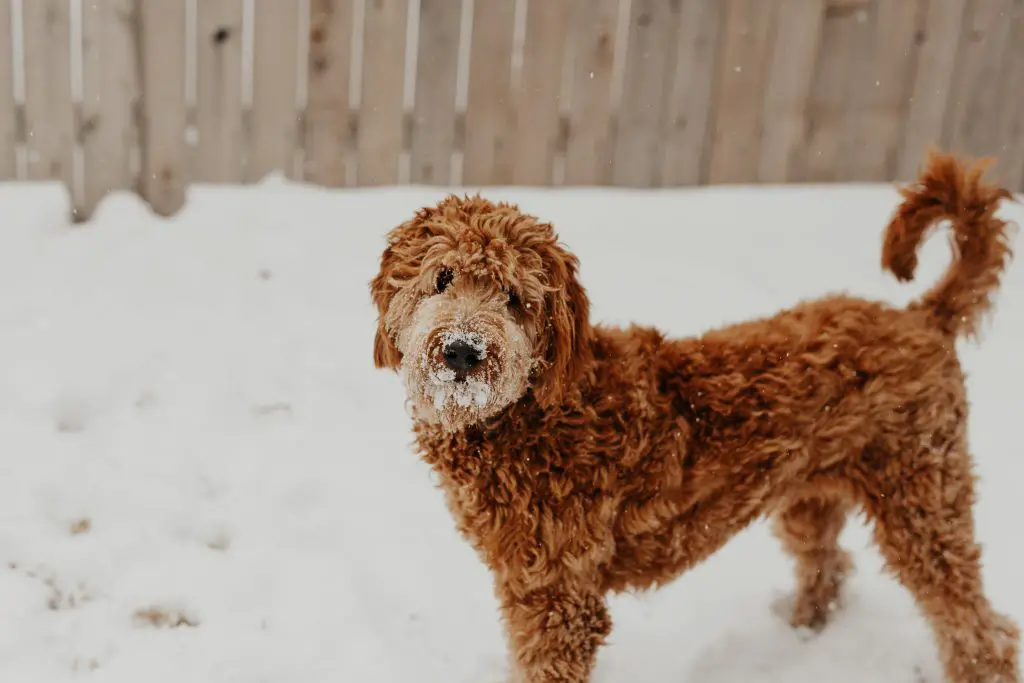 Personality Traits:
Goldendoodle is a crossing of a Golden Retriever with a standard poodle
Goldendoodles have 3 primary coat types- flat, straight wavy or curly. Flat coats tend to shed more than other hair types, so if you have allergies a flat haired Goldendoodle may not be the best choice for you.
Goldendoodles have multiple size options available with this crossbreed and it depends entirely on the parents size.
Fun Fact- Goldendoodles were first bred in the year 1969 by the great-granddaughter of Charles Dickens
Pros:
Goldendoodles shed less compared to a Golden Retriever, but many do still shed a bit
Goldendoodles generally make less of an allergic response, but some people are still allergic to them
Goldendoodles are quiet most of the time and don't bark much
Goldendoodles are excellent with children
Goldendoodles can be left home alone for several hours at a time with proper training and preparation, though they prefer company for sure.
Cons:
Goldendoodles require a lot of exercise and walks to keep them happy and healthy
Goldendoodles can be very socially anxious, so need to be socialized from an early age and trained properly
Goldendoodles are an expensive dog, as lots of people want them as pets who love the poodle, labrador and golden retriever
12. Poovanese or Hava Poo
Personality Traits:
The Poovanese or havapoo is an adorable breed, also known as the Havanese Poodle or Havadoodle
Poovanese and havapoo dogs are a mix between the standard poodle (or miniature poodle) and the Havanese
Poovaneses are sturdy, small and adorable. The Poovanese is native to Cuba and weighs around 7-13 pounds with height around 8.5-11.5 inches
Pros:
Poovanese and havapoo dogs are a popular companion, because they are love to be around people
Poovanese and havapoos don't require a lot of activity, as they are quite small and docile
Poovanese and havapoos are excellent at agility and obedience training
Cons:
Poovanese and havapoos  are more likely to suffer from anxiety issues
Poovanese and havapoos like to bark, they will need to be trained well to stop them from doing this
Poovanese and havapoos can be shy and timid- while this type of personality works for some people, many people prefer more outgoing dogs. You will need make sure you socialise poovanese and havapoos a lot to make sure they are comfortable around people and other dogs
13. Rottle or Rottidoodle
Personality Traits:
Rottle is a breed of dog which is half doodle and half-Rottweiler and were initially bred in the 80s and 90s as a designer breed in the US
Rottles, like both poodles and rottweilers, are generally considered a family-friendly mixed breed dog
Rottle goes by different names such as Rottidoodle and Rottipoo
Pros:
Rottles make great hunting dogs and can be taken for long days out hunting various animals in the country and wilderness
Rottles are intelligent, loyal and they have an eagerness to please
Rottles are obedient and Joyful dogs
Surprisingly, Rottles adjust well to living in an apartment due to their calm nature, as long as they are exercised regularly.
Rottles are mostly hypoallergenic
Cons:
Rottles requirements to keep them looking good can be quite high maintenance, like most poodle mixes as their fur needs regular attention
Rottles can be protective of their family, while this is good generally, if not trained and socialised correctly Rottles can be hostile towards non-family members.
Rottles have high energy requirements and need lots of exercise.
Rottles don't like being left alone for long periods, but are less likely to get separation anxiety than other
14. Sheepadoodle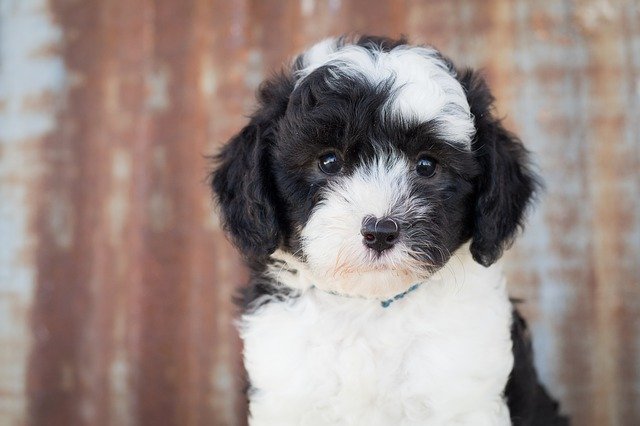 Personality Traits:
Old English Sheepdogs were bred with standard poodles to create Sheepadoodle
Sheepadoodle's mainly come in the following colors – Grey, Black and White, and Solid Black
Sheepadoodles are a popular emotional support and therapy dog, due to their good temperment, loyalty and loving nature.
Pros:
Sheepadoodles are easy to train and very obedient
Sheepadoodles have a good temperament- they are calm and loving
Sheepadoodles are low shedders, but they do require some grooming like all poodle mixes
Sheepadoodles make good watchdogs, this is thanks to their history as sheepdogs
Cons:
Sheepadoodles have a history of herding and nipping due to their sheepdog parent. Sheepadoodles need to be well trained to stop them from doing this.
Sheepadoodles can get separation anxiety if left alone for long periods
15. Chipoodle or Chipoo
Personality Traits:
Chipoodles or Chipoos are a mix between a chihuahua and toy poodle- they are the smallest poodle mix with some weighing as little as 3lbs when fully grown.
They are also known under the following names Choodle, Chipoodle, Poochi, and Poohuahua
Pros:
Chipoos are good at alerting their owners if there is an intruder, thought they are so small they will not put many intruders off.
Chipoos are alert and loving, they bond well with their owners
Chipoos can live in an apartment comfortably as they are small and have the lowest exercise requirements of all the poodle mixes.
Chipoos are very often hypoallergenic.
Cons:
Chipoos are not good with young children, because they are so small that children can accidentally hurt them during play.
Chipoos do not like being left alone for long periods of time.
Chipoos can get separation anxiety if left alone for long periods
Final Words
Overall, any poodle mix you opt for is going to be a happy and outgoing dog. They would love to play with you and sleep on your lap. And due to their friendly nature, especially with children, they have become such a popular choice for families.
Always Remember- Different breeds are for different people so before bringing them in, make sure that you completely fit your potential puppies' individual needs.
A dog, doodle or not, is a life companion. So make sure you pick the perfect one for your loved ones and yourself!
Any questions or concerns regarding Poodle mixes or Doodles are welcome in the comments.